Guru Community Awards 2021 🏆
In 2021, we welcomed 1,100+ members into our new and improved Guru Community. These members (yourself included) shared countless tips and tricks, product ideas, and more to support other Guru users.
We've created the Guru Community Awards to recognize top contributors for sharing their knowledge. Cheers to these Guru super users, our community appreciates you!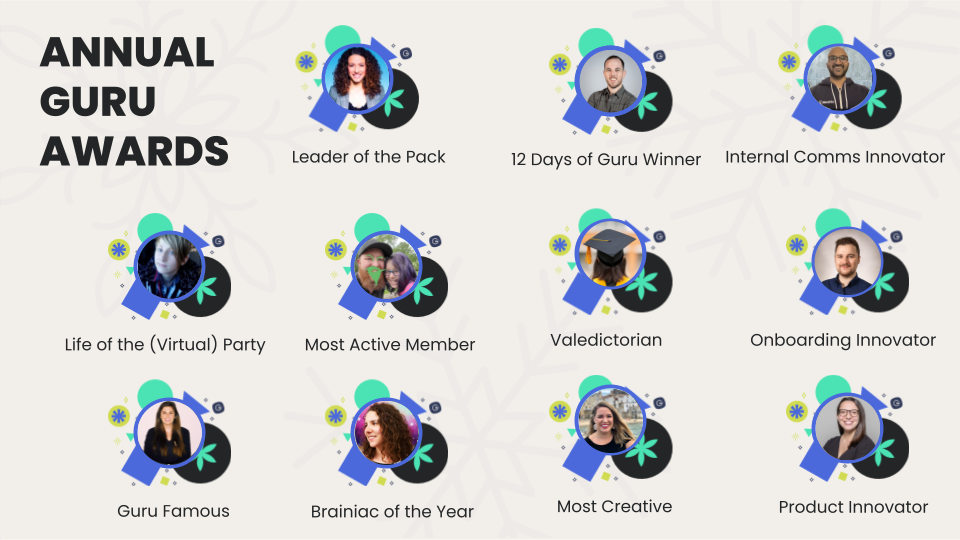 Brainiac of the Year 🏆
Did you know … Guru Community members can achieve different ranks by sharing tips, tricks, product ideas, and engaging with others posts. Congratulations to @brookethebatman for ascending to the Brainiac level, holding the highest ranking in the Guru Community to date!
Community Moderators 🏆
Guru Community champions from day one, these folks played a huge role in activating conversations and inspiring questions in the Community. They helped thoughtfully transition the best parts of the Guru Community from Slack to here, and we're so grateful for their foundational efforts. Cheers to @Zev Zoldan @Chrissy Sebald @Sarah W and @Deborah Sanderfur !
2021 Deep Dive Speakers 🏆
If you've been to a Deep Dive, you know that we go 1,000 feet below sea level to get to the real stories behind Guru success. What approach should you take to engage your team members around Guru? What worked for others? This badge goes to all of the champions we partnered with to lift up the curtains and show others the keys to their Guru success. @Zev Zoldan @Jennifer Dean @Caroline Svenson @Jacob Touchette @Cynthia @Martin Theobald @Shona Fenner @Hassan Muhammad @Kristin Fretz @Ewan Farry @gillian gale @Grace Taylor @Deborah Sanderfur @kelly @Nina Frank @Sarah W @James Arnold  @Joaquin Felix Dalla Via @David Parle @Radhika Parashar . Catch a recap of recent Deep Dives by browsing the "guru deep dive" tag in the Guru Community.
Guru Famous 🏆
One thing Guru team members know all too well? It's the stories of Guru customers who share their approaches in multiple areas of the community and internal Guru company events. This award goes to "Guru Famous" individuals, thank you for partnering with us this year in multiple ways to amplify your story far and wide! @kelly  @Shona Fenner @Hassan Muhammad @Michelle Williams @Julia Berg @Cynthia @Sean Connolly   @Zev Zoldan @Deborah Sanderfur 
Leader of the Pack 🏆
If you've ever looked into creating a knowledge council, you know it can be a fine dance to engage internal stakeholders and get them to keep up with knowledge in Guru. If you're looking for inspiration, listen to @Deborah Sanderfur 's insights in our Deep Dive on Creating and Managing a Knowledge Council. Deborah manages a knowledge council of 20+ Guru lovers. This makes her a well-deserving winner of the "Leader of the Pack" award for best knowledge council!
Life of the (Virtual) Party 🏆
If there's one thing I've noticed working with knowledge managers around the world for a few years now, it's this: Guru admins have an insanely witty, incredibly amusing sense of humor. We'd like to recognize @Shona Fenner, Senior Customer Success Manager and Guru Meme Inventor who leads the charge in this category. She's behind many of the memes you've seen in the Guru Memes/Gifs resource. While she's not behind the camera enjoying San Diego weather with her favorite pets, we imagine she writes SNL type skits filled with knowledge puns for fun. Congratulations Shona! 
Most Active Member 🏆
You don't just become Guru's most active community member overnight. In fact, @Ian Link , member since February 2021, has weighed in on and provided thoughtful commentary to many topics in his time here. Chances are you'll see Ian around the Guru Community in the comment section, so when you do, be sure to say hi!
Most Creative 🏆
You know the song "PYT" by Michael Jackson? What if we told you that song may or may not be based on a Hopin x Guru original, championed by @Nina Frank , called "DYG" standing for "Did you Guru it?" Nina's fearless pursuit to engage her team around Guru and inspire knowledge lightbulb moments with tunes that don't leave your head wins her the Most Creative 2021 Award. 🏆 We highly recommend swapping out your go-to Mariah Carey holiday tune and taking a listen: 
Valedictorian 🏆
Since we launched Guru Academy in May 2020, we've had about 4,000 learners register for over 9,000 courses. Your fellow Guru user Tammy Hamrick has registered for the most courses and spent the most time in our Academy, making her the Guru Academy valedictorian.
Visonaries 🏆
What makes a product better? New ideas, always. Shoutout to these Guru Community Visionaries for sharing multiple product ideas with many upvotes, sparking multiple "you said it, we were thinking it" moments and keeping our product team on track. @Ben Sykes @Siobhan Hyser @Mirna Lessinger @brookethebatman @Ian Link @Katelyn Do @Ali Berman @James Andrewartha @kelly @Taylor Paschal @Nick Snelling  
 Workflow Innovators 🏆
At Guru, we hate context switching. And we love knowledge. So you can imagine how major the rollout of Guru's Zapier and Workato apps were to our workflows. We were even more inspired seeing innovators like @Hassan Muhammad @Ewan Farry @Kristin Fretz creatively save time by setting up Zaps and Workato recipes to support their internal communications, product enablement, and onboarding workflows. Get inspired by these innovators and learn more about their workflows here:
That's a Wrap🏆
Congratulations to our awardees, and THANK YOU to all 1,100+ of you! If you don't see your name up here, that's ok, there will be plenty of ways for us to share tips and tricks and swap ideas in 2022. Happy Holidays everyone!