Good morning Guru Community! Welcome to Day 9 of 12 Days of Guru. 
 Countdown till we celebrate together at the Deep Dive on the 16th, I can't believe it's almost here!
Yesterday's Winner …
Thank you so much for participating and sharing your top Guru users in 2021! It was interesting to see how many of us were at the top of our lists, and how much of a variety there was in users from different teams. @Katelyn Do @Anastasia Rybalko @Amanda Labby @Ian Link @kelly @Elizabeth Fugikawa !
You were all entered in our daily drawing. The winner from Day 8 is ….  @Katelyn Do !!!!! you will get to chose between a $25 gift card or Guru swag. Be on the look out for a message in your email inbox!
What is the 12 Days of Guru?
If you are hearing of 12 Days of Guru for the first time, starting December 1st until our Holiday Deep Dive on December 16th, we'll be dropping a series of tips in the Guru Community to help you recognize your 2021 impact with Guru.
Participants will have the chance to win prizes daily by measuring the Guru metric of the day and sharing your findings in the thread. 

By the end of the 12 Days, you'll have all the information you'll need to complete a Year in Review Card or PDF you can share with your team. 

You'll be able to submit your final Card for a grand prize. 

At the Deep Dive, we'll meet to share our wins, mix and mingle, and celebrate before the holidays!
Follow along with these 12 Days of Guru resources and don't forget to RSVP to the Deep Dive:
Day 9 Challenge!
Today we'll be shouting out our Top Guru Authors of 2021.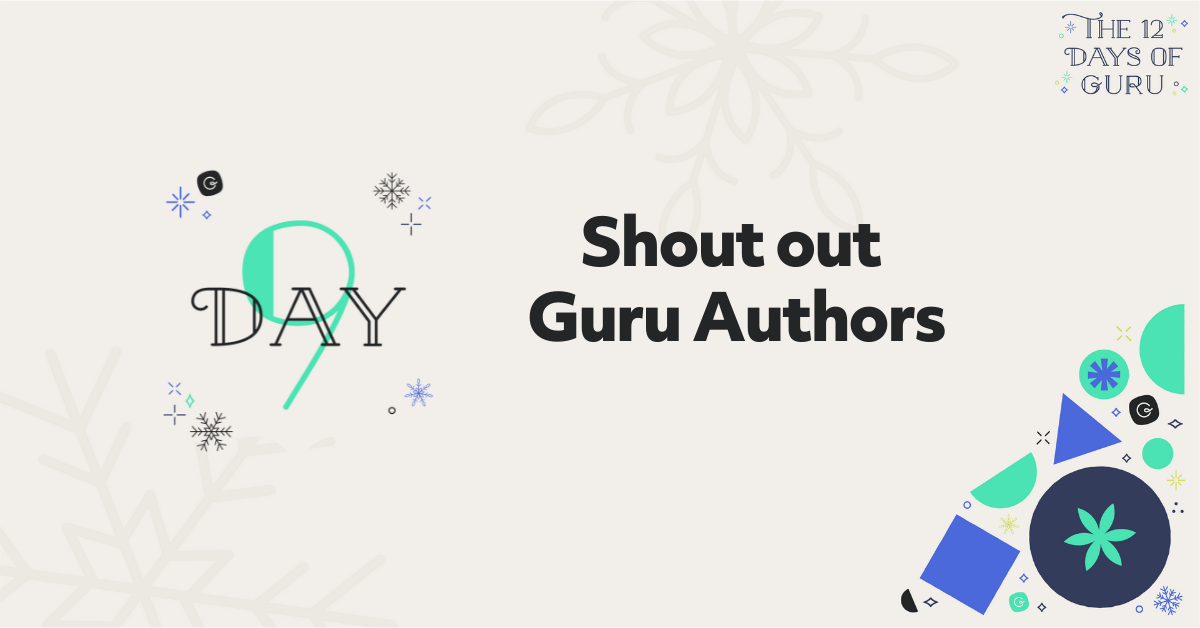 Who are your Top Guru Authors? Share below!
It's time to shoutout the team members who helped create and keep up with content in Guru. This may look different for every team. At Guru, everyone can be an author. Other companies like Dataiku have a specific author and verification set up. Whatever your set up, take this opportunity to recognize your contributors!
If you're curious, find more details about @Grace Taylor 's process with Dataiku's knowledge council in this recent Deep Dive: 
If you want to take a quantitive approach, you can pull information from Card manager and track # Cards created by Authors in a spreadsheet!
Pull Cards created in 2021 into a spreadsheet: 
Web App: Go to the web app (app.getguru.com) and the initial dashboard will display the trust score. You can always return to the dashboard by clicking the 'G' icon in the left hand corner of the navigation bar. 

Navigate to the Card Manager tab in the web app. 

Head to Filter by Attribute on the right side. Set "creation date" to ABSOLUTE → After December 31st, 2020 and refresh your data!

Export this filtered view into a CSV file (the file will get emailed directly to your inbox). 

Work with the information in a spreadsheet.

Focus on "Column F" - the "Created By" column 

Reformat your view as needed; I hid columns and sorted my "Created By" view from A-Z

Highlight the "Created By" Column, head to Data and click "Column Stats"

See what names show up under the "Most" Value!
Watch this Loom video for a walkthrough:
P.S. New to Guru Analytics? Learn more in these help center articles: