THIS JUST IN:
Guru's first ever Out-of-Home campaign has now gone live in multiple cities in the United States!
We're being overloaded with information at work—and we've gotten so used to this that we rarely stop to think if the information we're being inundated with actually serves a purpose. We're showing the world the four types of "information overload"—too much, outdated, scattered, and irrelevant—and how Guru can help combat it.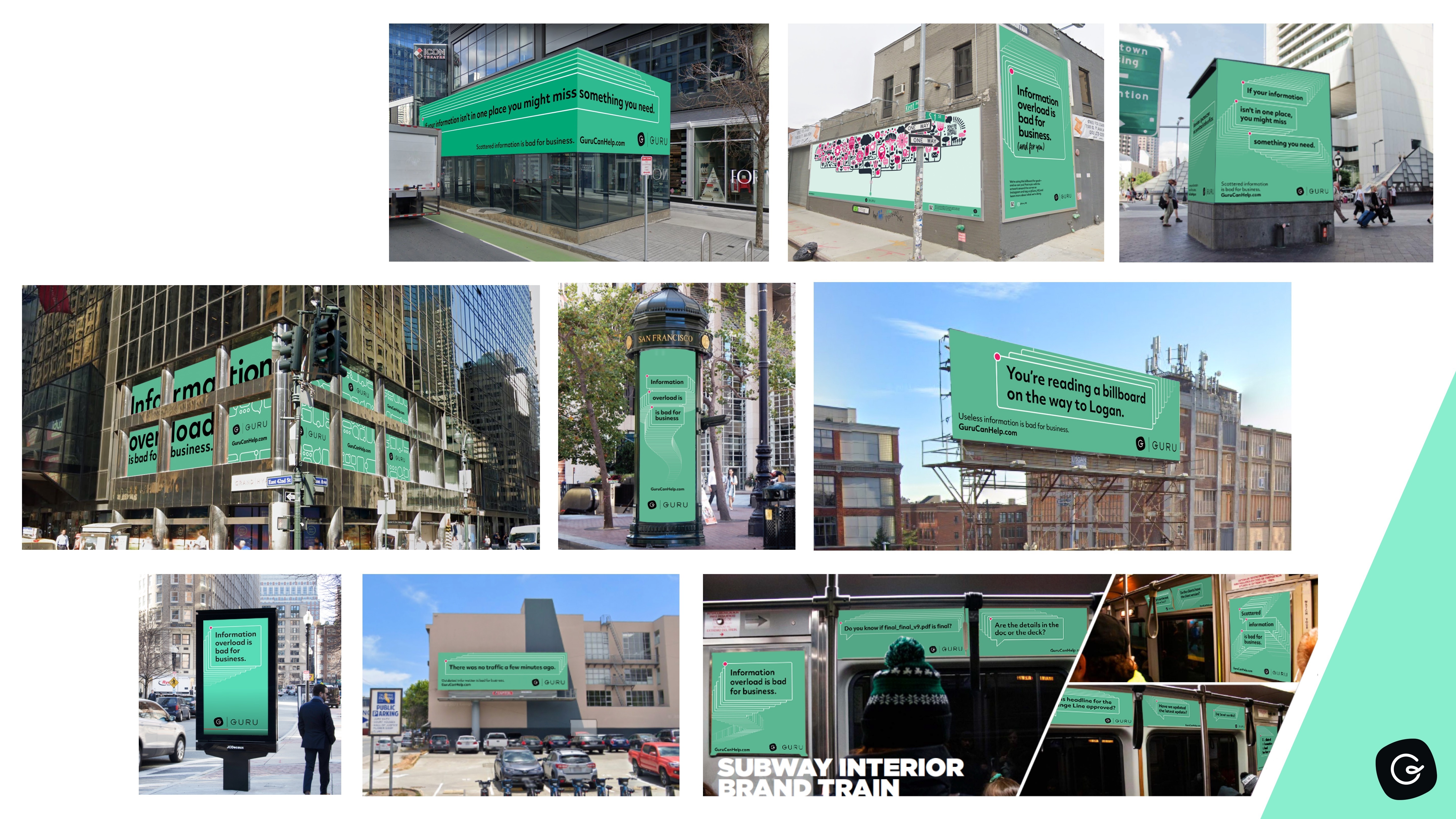 SPREAD THE WORD AND WIN
Team up with us to help folks bogged down by information overload with Guru! Check out the following ways to spread the word. Each social mention will get you entered to win one of the 8 prizes! 
VIP

KNOWLEDGE FEST TICKETS - 5 winners will receive  
$100 VISA GIFT CARD - 3 winners will receive a $100 visa gift card. We recommend spending this on self-care to heal from past information overload, but it is up to you!
BASED IN NEW YORK, SAN FRANCISCO OR  BOSTON? 
Take a selfie when you find a Guru ad out in the wild and post on social media sharing how Guru has saved you from information overload. Link to bit.ly/gurucanhelp and use the hashtag #gurucanhelp. Find location details in this Guru Card. 
NOT LOCATED IN THOSE CITIES, BUT STILL WANT TO PARTICIPATE? 
Head to social media and tell it to us straight: Do you feel Guru has helped relieve your information overload woes? How has Guru helped you in your role? Share a few words, link to bit.ly/gurucanhelp , use the hashtag #gurucanhelp and tag @guru_hq so we can see your post! 
DROP YOUR POSTS IN THIS COMMUNITY THREAD 
For extra bonus points/entries to win, drop links to your social media posts below in the thread so everyone in the community can show it some love!
TACKLING INFORMATION OVERLOAD JUST GOT FUN. 
Thanks for teaming up with us to spread the word about Guru! Winners will be randomly selected and announced at the end of the contest on May 2nd, 2022.