Hello, I hope your week is off to a good start!
One of our most-requested features is the ability to subscribe to a Card and get updates when information in that Card changes. At last count, we had 94 upvotes for this idea, so I hope today's release makes a bunch of your days 😉
Starting today, users can follow any Guru Card and automatically receive updates when the information on that Card changes.
Readers will feel more secure in knowing when information, processes, and other company knowledge they care about changes. They will have control over how many Cards they follow, so they can manage information overload according to their own appetite for notifications.
Authors and leaders have a new way to understand what content is most important to their readers through "Card Follow" stats. This functionality gives them a little peace of mind that their team can keep up to date without authors and leaders having to do extra work.
These subject matter experts (SMEs) can also encourage employees to follow specific Cards, relieving SMEs of some of the burden of manually reminding people to read updated Cards. It also reduces the noise of re-sharing the same Cards over and over again in Slack and Teams.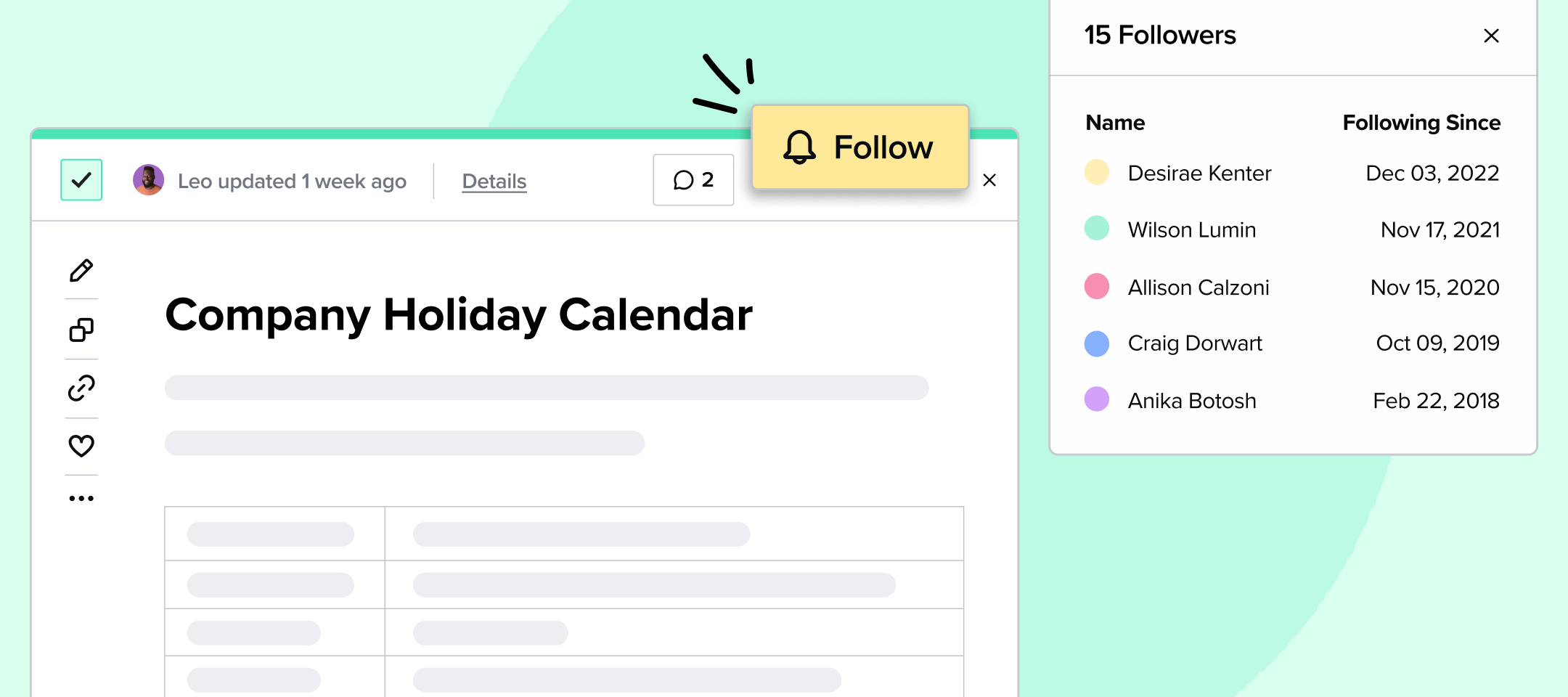 Here's how it works:
When you open a Card in the Guru web app or browser extension, you'll see a "Follow" button at the upper right hand corner of the Card.

Click the "Follow" button, and when the Card is updated, you'll receive a notification in your channel of choice (Slack, Teams, or email).

You can un-follow a Card at any time.
Card editors have the ability to select whether or not they want to notify followers of updates made to their Cards. We know that not every edit is worthy of sending out a notification, so we made sure subject matter experts can safely adjust their Cards for typos and format changes without worrying about overloading Card followers with noise.

Alongside adding the ability to follow a Card, we've also made valuable information found in the Details area of a Card more accessible: now the name and picture of the last person to modify the Card and the timestamp of that update are available in the top utility bar. No more clicking to the Details tab to gain access to this helpful context! We've also moved the link to comments over to the right, next to the Follow button to make room for exciting future updates (no spoilers!).
To learn more, check out the new Follow a Card article in Help Center.
We've been using this feature at Guru for a few weeks now, and our most-followed Card recaps all of our product releases from 2022. We'd love to hear what Cards your team is following! Let us know how you're using the follow a Card feature in the comments below.
Happy Halloween!