Good morning Guru Community! I hope you enjoyed our introduction to the 12 Days of Guru! It was so great to see your comments about how you measure adoption rate.
Yesterday's Winner …
Thank you so much for participating @brookethebatman @Elizabeth Fugikawa @Anastasia Rybalko @Katelyn Do @kelly @Valerie Renda @Shona Fenner @Lindsey Hart @Amanda Labby @Nina Frank @Ben Sykes @Sylvia Rodriguez and @Sarah W !!! You were all entered in our daily drawing.
The winner is …. @kelly !!!!!! Kelly will get to chose between a $25 gift card or Guru swag. Kelly, be on the look out for a message in your community & email inbox!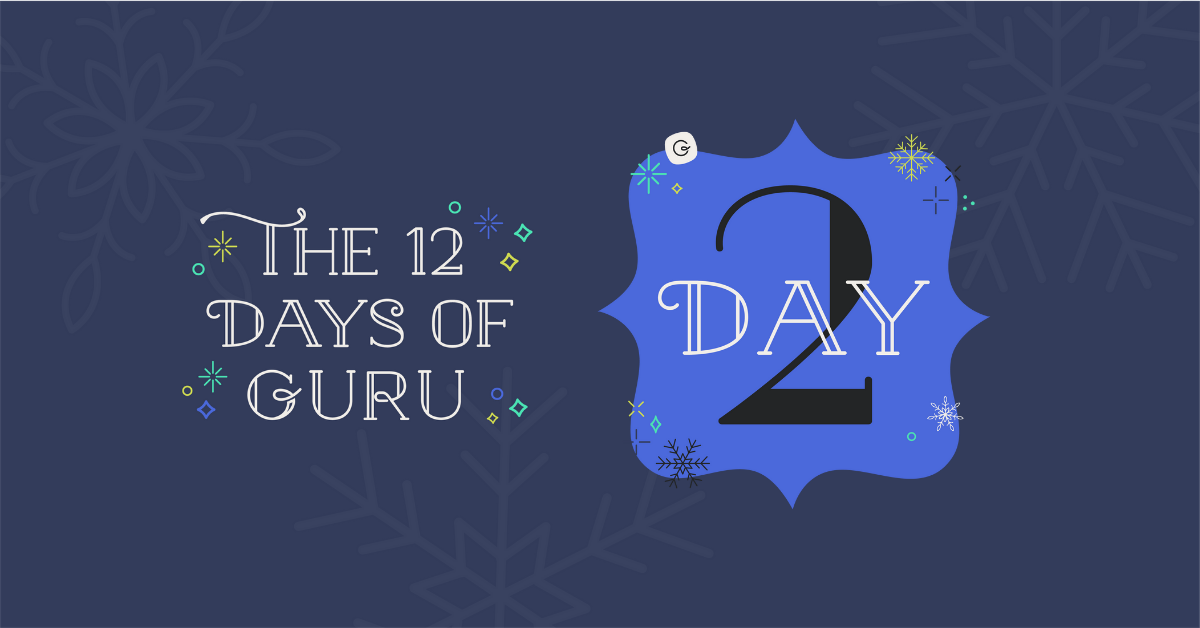 What is the 12 Days of Guru?
If you are hearing of 12 Days of Guru for the first time, starting December 1st until our Holiday Deep Dive on December 16th, we'll be dropping a series of tips in the Guru Community to help you recognize your 2021 impact with Guru.
Participants will have the chance to win prizes daily by measuring the Guru metric of the day and sharing your findings in the thread. 

By the end of the 12 Days, you'll have all the information you'll need to complete a Year in Review Card or PDF you can share with your team. 

You'll be able to submit your final Card for a grand prize. 

At the Deep Dive, we'll meet to share our wins, mix and mingle, and celebrate before the holidays!
Follow along with these 12 Days of Guru resources and don't forget to RSVP to the Deep Dive: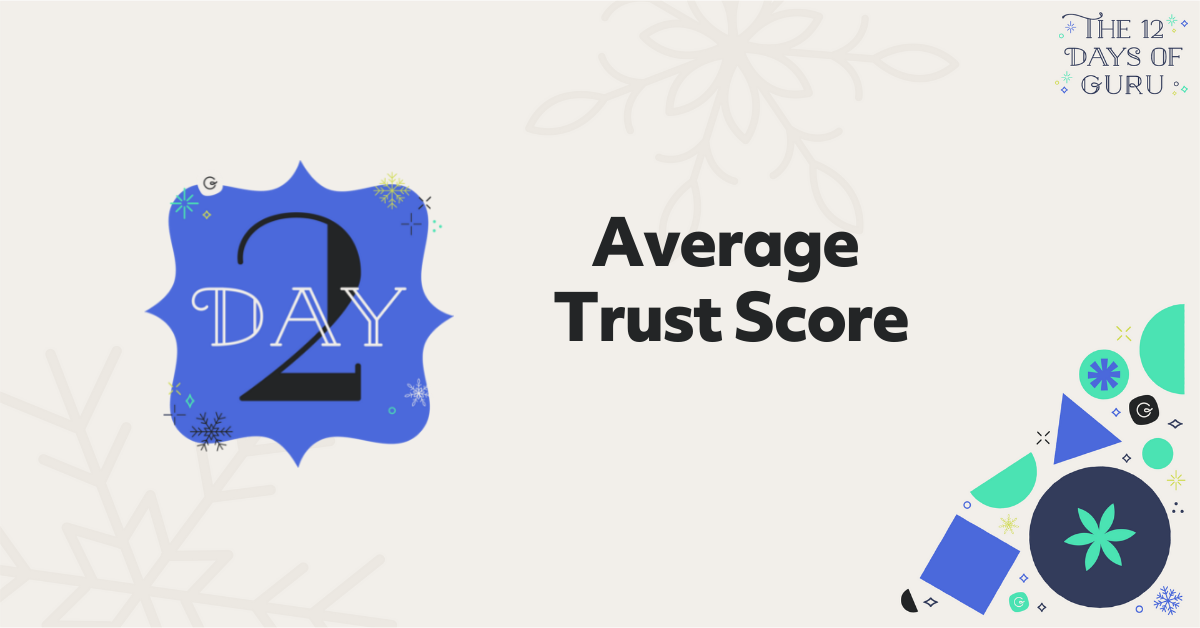 Day 2 Challenge!
Who's ready for Day 2?! Today's metric of the day is about your Guru trust score.
Guru provides a trust score that represents the percentage of your content that is verified and up to date. Every team is different, but accounts with the highest usage have trust scores above 85%, meaning only 1/8 of their content is out of date.
Today, we'll take a look at your current trust score to see how strongly you're wrapping up the year. We'll also look at the consistency of your trust score over 2021. 
To measure your trust score: 
Web App: Go to the web app (app.getguru.com) and the initial dashboard will display the trust score. You can always return to the dashboard by clicking the 'G' icon in the left hand corner of the navigation bar. 

Analytics: Navigate to Analytics in the web app (app.getguru.com/#/analytics) to view the trust score in the top right corner of the Analytics portal.

 Change the date range to "Is in the year 2021" and refresh your data!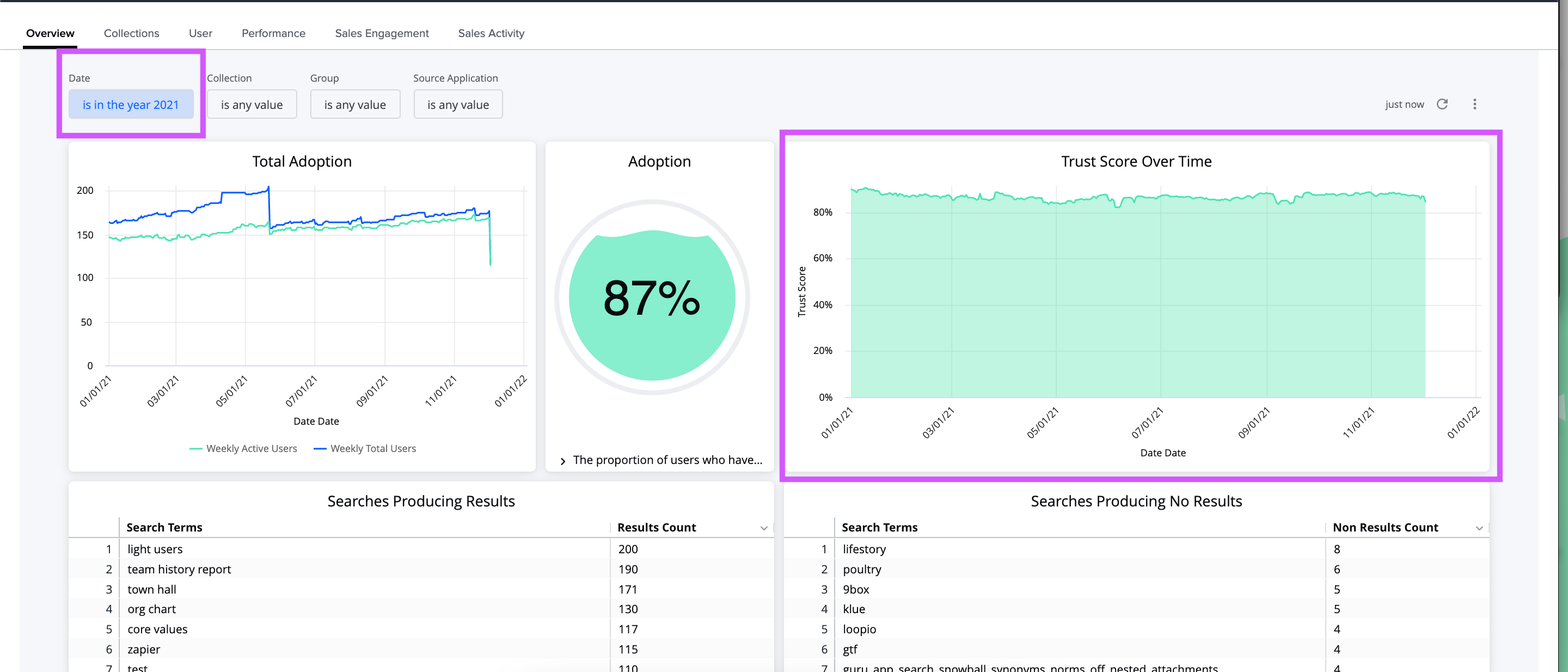 Watch this Loom Video for step-by-step instructions:
What trust score are you ending the year with? Was your trust score consistent over the whole year? What was your average trust score? Share your answers to any of those questions with the Guru Community below for the chance to win a $25 Amazon gift card or Guru swag item of your choice! The winner will be announced tomorrow morning with our Day 3 Challenge post. 
P.S. There's still time to boost your trust score! Find ways to improve it and set yourself up for more consistency in the new year in this help center article.