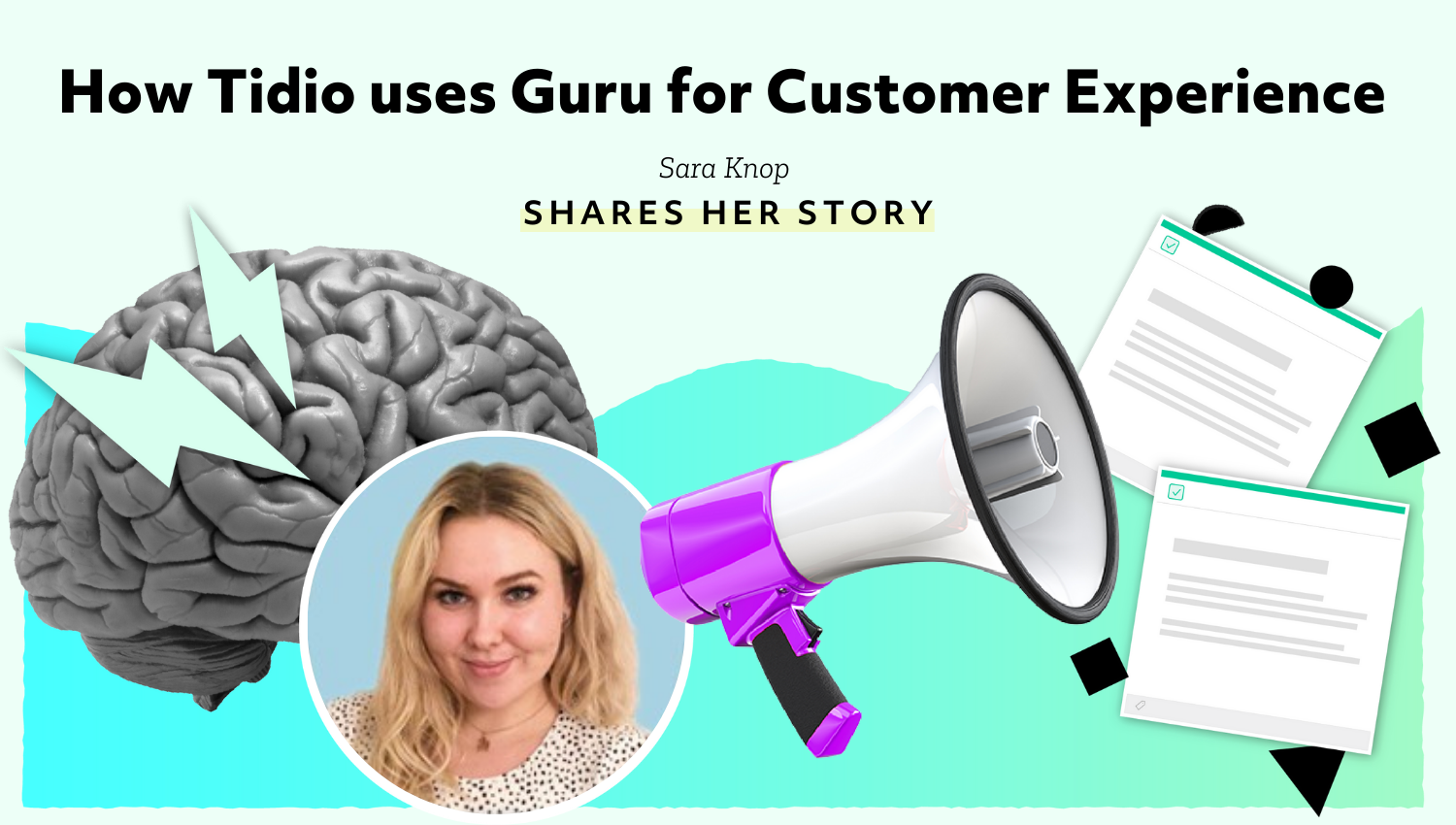 Meet Sara Knop, 

Customer Experience Content Specialist at Tidio
@Sara Knop  // LinkedIn: Sara Knop
I have been working in Tidio for almost three years. Our company switched to remote work during that time, giving me a chance to travel and work. I traveled and worked in a few European countries but found my place for longer in Budapest, where I have lived now for more than a year. It's not my last destination as I am already looking for a new place to live and work from, haha :) I joined our Customer Experience Operations team a year ago, switching from the Support team. One of my biggest tasks in a new position was designing and introducing a new internal knowledge base for our team, so I am grateful the Guru tool turned out to be a great choice. 
How does your company use Guru?
Guru is our internal knowledge management tool for the Customer Experience department, where we gather solutions & guides on troubleshooting the most common user issues & questions. Guru also lets us keep our team up to date with new product releases & summaries of our sprint reviews through the newsletters we create and share every couple of weeks. Besides that, our Support Quality Assurance & Onboarding teams recently started to use Guru, keeping their information in one place that is easy to access. 
What challenges did your team face before Guru?
Before Guru, our team was always in one room, making the transfer of the information smooth and easy. However, the pandemic changed our approach to work by making our team operate mainly remotely. We had to make sure that all the information was available in the written form, always at hand, especially for all of our new employees onboarded entirely remotely. Before Guru, we used Notion as our knowledge base system; however, early on, we noticed we needed a more powerful tool that would allow us to create a clear structure and increase the searchability of our content. 
After using Guru, how important would you say a knowledge management tool is to your team?
Crucial for everyday work. We can't imagine our work without Guru anymore. We also see our team making great use of the app and even contributing to ensuring the cards stay up to date. Guru has some great features, and we want to make sure we "utilize" Guru as much as possible. 
What has been the greatest impact Guru has had on your organization and/or day-to-day role?
All processes and procedures are now available for our team members in one place, at any time. The highlight of our Guru usage was the Guru browser extension, which helped us search for the knowledge in real-time when chatting with our users. There's no need anymore to keep multiple tabs open anymore. Now we can solve our customer issues and answer their questions faster than ever before. Our new hire's confidence drastically increased. With Guru, they know there is always a place that can support them despite remote work. 
Would you say implementing Guru positively impact the following areas of your business?
Guru helped us decrease the time spent looking for the information by our agents and time spent answering repetitive questions. We also noticed a higher employee engagement/happiness score and the time a new hire needs to start working independently. 
What metrics did you specifically track to understand Guru's impact on your team?
We managed to increase the eNPS of our team members as the tool reduce the stress and make our team more confident.
Any additional thoughts you want to share about Guru and knowledge management?
Guru is a go-to solution for all companies with a remote work environment. It helped us organize our team's knowledge, keeping all the information in one place and always up to date.
Questions for Sara? Drop them down below! :)