Hi Guru Community!
We're introducing a new way to help people find information they need to succeed in their jobs. Today, we're releasing automated, personalized recommendations in a section titled "Recommended For You" on the Guru web app dashboard. 
Now, when users log into Guru, they'll see a new section on the dashboard that surfaces Cards based on their activity in Guru and the activity of people like them within your company. These recommendations are unique for every user, and are a great way to keep people continuously connected to useful content. Recommendations will include knowledge that the user may not know exists in Guru, may have not seen in a long time, or may have recently interacted with.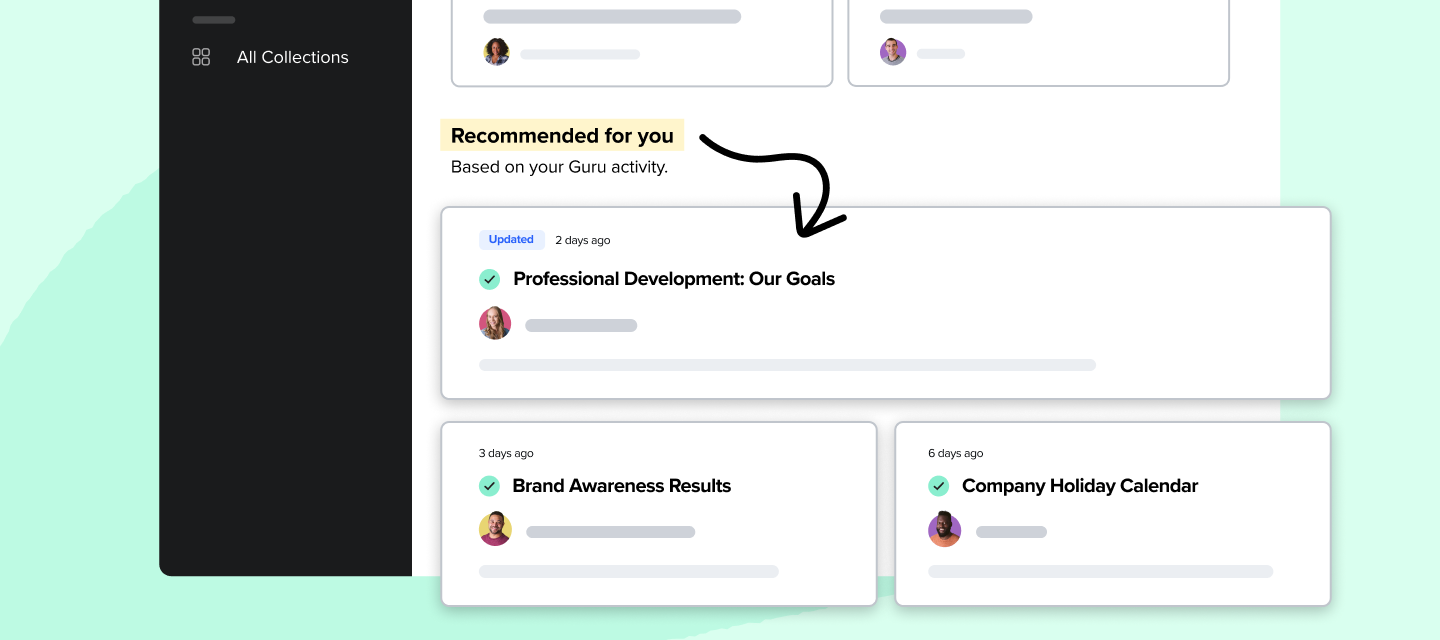 Here's how it works:
Recommendations will automatically appear when users visit the dashboard. 

Users can access up to 15 recommended cards in this section. 

Recommendations refresh once a day.

Note that a user might not see recommended Cards if they haven't been active in Guru yet.

If a recommendation isn't helpful you can dismiss it to keep it out of your recommendations for a while. 

To help you decide if you'd like to view a recommendation we've included a preview of key information:

Name and image of the last person to modify the card

Date of the last modification

An "Updated" label if the card has been updated in the last 10 days

If a user sees a Card that's interesting, they can click to open it right from the dashboard.

Recommendations will improve over time as users interact with Cards while they use Guru in their work, and as the rest of their coworkers also continue to engage with Guru.
To learn more, check out the new Personalized Card Recommendations article in Help Center.
We'd love to hear your thoughts on this new feature! Please let us know what you think with a comment below.